Effective exercise for slender legs: "chair" against the wall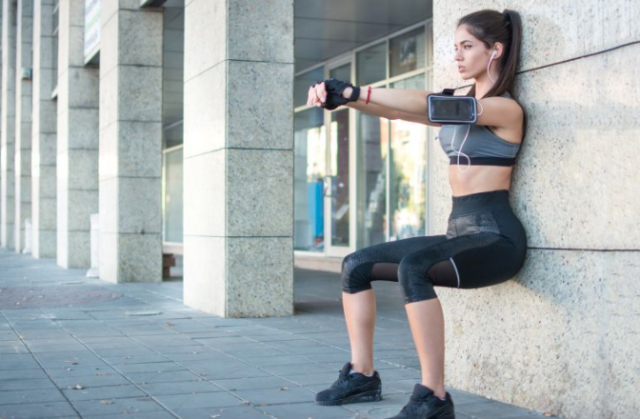 Especially for those who do not have enough money or time to go to the gym, we have prepared "Stool". Static exercise helps to work and feel the muscles of the legs, front of the thigh, buttocks, back of the thigh, back and abdominal muscles. No more excuses: you just need a minute at home, in the park, or even in the office.
Exercise "Chair against the wall": why
The exercise pumps the muscles of the lower back and rectus abdominis muscles, but is mainly aimed at working out the muscles of the legs, namely:
the front of the thigh;

hamstrings;

gluteus maximus muscle;

calf muscles.
Many athletes focus on training their glutes to improve their shape and appearance. But in order to pump the buttocks, you need to have strong legs. Increasing volumes requires working with large weights. Classic squats need to be done with a minimum of 10 kilograms to see progress. Weak legs cannot withstand such a load: you need to focus on strengthening them. The "chair" is perfect for this purpose: in the process of execution, the legs support the weight of the whole body. If you do the Stool regularly, you can improve the strength of the front and back of the thigh, increase the endurance of the body, strengthen the knee joints, develop concentration and body balance.
This is one of the most comfortable exercises you can do anywhere: at home, at work, at a party, at the gym. You can not limit yourself in time: perform from one to five minutes, constantly increasing the duration of the process. Try to improve your performance by even five seconds. For beginners, it is optimal to perform the exercise five times a week for four sets of 30 seconds or more.
Exercise "Chair": execution technique
To load the buttocks and legs, even more, you can pick up dumbbells or improvised means: bottles, books, a heavy bag, or do the exercise on one leg.
Stand with your back against the wall and press firmly against it. Step forward and spread your feet shoulder-width apart. Slide down the wall to a squat position. The socks can be straight or turned outward. Place your hands along the wall along the body. Your hips should be parallel to the floor. Maintain a static pose for as long as you can. It is advisable to turn on a stopwatch in order to increase the result with each approach.
Execution details:
knees should be bent 90 degrees;

emphasis – on the heels;

to facilitate exercise, place your hands on your knees;

hold on for a few more seconds as soon as you feel a burning sensation.
Please follow and like us: