Delicious high protein breakfasts: 7 quick recipes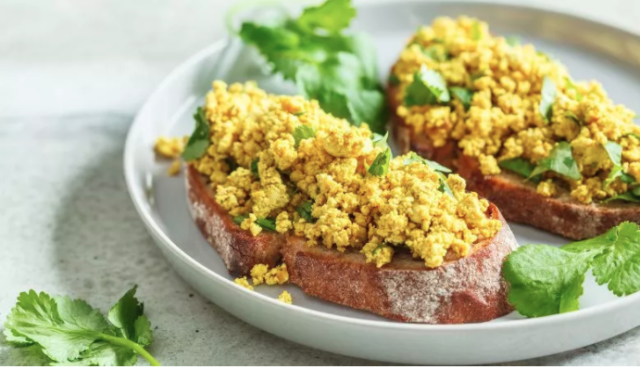 Seven unusual recipes are enough for exactly one week – experiment!
Polly porridge with fruit
Ingredients: spelled, water, fruit, honey.
Soak the cereal in warm water and leave overnight. In the morning, pour boiling water over the finished spelled, salt. Simmer over low heat for about 20 minutes. Drain the liquid, transfer to a plate. Add sliced ​​fruit or chopped nuts. Stir, add honey, a teaspoon of ghee oil, or whatever.
Berry parfait
Ingredients: Greek yogurt, granola, berries, honey, or maple syrup.
Take a cup or tall container. Put the yogurt on the bottom of the dish, the next layer – berries and granola. Add a teaspoon of honey, syrup, or peanut butter.
Buckwheat porridge with chia
Ingredients: Chia seeds, hemp seeds, buckwheat, dried cranberries, vegetable or regular milk.
Boil buckwheat and transfer to a plate. Add the rest of the ingredients and cover with milk. You can also add almond petals or coconut flakes.
Scramble with goat cheese
Ingredients: eggs, goat cheese, butter, ground pepper, spinach, cherry.
Melt the butter in a skillet, sauté the spinach and cherry tomatoes. You can add pepper or jalapenos. Add eggs, salt and pepper. Cook the scramble, stirring constantly: it should be thick by the end. Remove pan from heat, add goat cheese, stir. Serve with toast.
Roll with egg and spinach
Ingredients: Eggs, spinach, whole grain pita bread or tortillas, cheese, olive oil.
Fry the spinach lightly in a little oil. Whisk the eggs and one white, add to the spinach when curdled. Add cheese. Season with salt and pepper, stir. When the omelet is ready, divide into tortillas in portions. Spread in small amounts to keep it from falling out. Cut the rolled rolls in half.
Quinoa porridge with turmeric
Ingredients: Quinoa, Turmeric, Cinnamon, Ghee, Chia Seeds.
Boil the quinoa in water or milk, add all the ingredients and stir. Top with a piece of ghee.
Chia pudding
Ingredients: Chia seeds, plant milk, honey, mango, nuts, or almond petals.
Pour milk over the chia, add honey and refrigerate for a few hours or overnight. When the pudding has set, garnish with cubes of mango or other fruit. Add chopped nuts.
Tofu Scramble
Ingredients: tofu, cherry, spinach, turmeric, salt.
Chop tofu, fry in a pan. Chop cherry and spinach, add to skillet. Salt, add spices to taste, two tablespoons of water. Stir until the tofu turns yellow. Throw in the tomatoes, cook until soft. Add spinach. Stir and leave under the lid for a minute. Serve with whole-grain bread.
Please follow and like us: