BALANCED NUTRITION FOR WOMEN: HOW TO STAY HEALTHY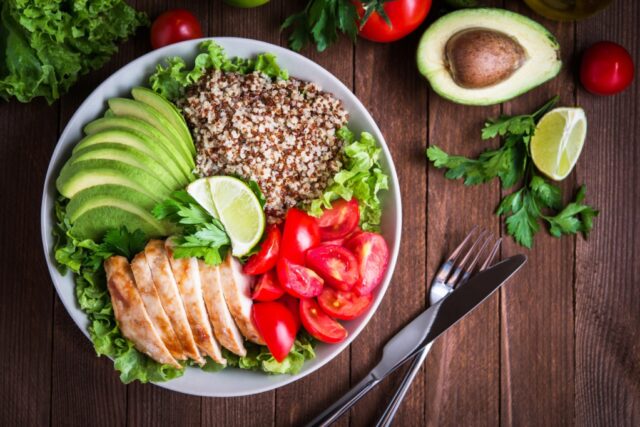 What can you not do without if you are firmly on the path of a healthy lifestyle? Fitness trainers and nutritionists from all over the world are in solidarity with each other – first of all, you need to understand what a food diary is and how to keep it correctly. Let's see why balanced nutrition is so important for women, why you need to make a menu every day and how it will affect the achievement of your goals – for example, weight loss.
WHAT IS A BALANCED DIET
The concept of "proper balanced nutrition" means the totality of food that makes up the daily diet and ensures that the body receives the optimal amount of nutrients.
A nutritious and healthy diet is based on 2 key factors:
Regularity of food intake.

Control over the intake of the desired ratio of proteins, carbohydrates and fats.
It is important to understand exactly which nutrients contribute to the total calorie content of the daily diet. The amount of carbohydrates and proteins must exceed the intake of fats.
You can keep a rational nutrition diary both independently and with the help of a personal trainer or nutritionist.
The second option is more preferable – a specialist will analyze your physiology, take into account your goals, medical indications and your personal eating habits. As a result, you will receive an individual menu with recommendations on how it can be further developed and adjusted. After that, you can keep a diary yourself, as you will understand how many calories your body needs and what the balance of nutrients in the daily diet should be.
Balanced diet for women, 1 day
The goal is to reduce weight and subcutaneous fat while preserving muscle tissue.
Time

Name

Weight (gr)

Calories

Protein

Carbohydrates

Fats

9:00

Oatmeal porridge

280

289

8

57

five

Kiwi

85

41

1

nine

1

11:00

Natural yogurt 2%

one hundred

60

4

6

2

14:00

Steamed omelet

one hundred

184

ten

2

five

Broccoli

one hundred

28

3

five

0

17:00

Soup (vegetable)

150

65

3

nine

3

Chicken fillet

one hundred

113

24

five

2

21:00

Low-fat cottage cheese 0.5%

150

90

27

3

1

Daily amount of calories

1065

869

79

96

29

Grams per 1 kg of body weight

 
 

1.3

1.6

0.5

Percentage

 
 

36%

44%

thirty%***
*** *** It is important that the amount of animal fat is not excessive. However, in this example, a steamed omelet provides the body's daily lipid requirements. The rest of the fatty component (except for a small amount in chicken fillet) is vegetable fats. If you increase their daily intake, there will be no harm to the body.
Remember that each of us is unique. Therefore, do not neglect contacting a specialist. He will tell you how to properly balance your diet, and you will achieve your goals much faster.
Losing weight is a question that is not solved in one day. Fanaticism and ill-considered diets in the long term can lead to problems in various body systems. Adapting to a balanced diet is gradual, so take your time and be systemic. Then you are guaranteed to get a stable and long-term result.
Please follow and like us: