THE BENEFITS OF AERIAL YOGA FOR CHILDREN AND ADULTS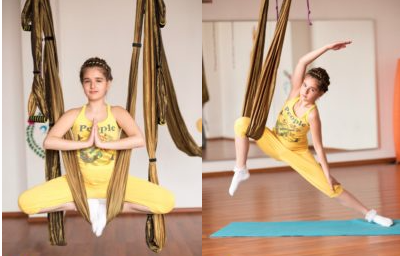 Benefits of practicing yoga in a hammock
Practicing in the AeroGamak hammock, you will receive:
Plastic and elastic, strong body

The energy charge of the body

Improvement of all body systems due to inverted asanas

Relaxation and strengthening of the nervous system
The benefits of aerial yoga in a hammock for children
Aerial yoga realizes the need for the child to move. It allows you to harmoniously develop the entire muscle complex. Calms the mind and normalizes the nervous system.

Yoga in the air teaches the skill of controlling the body in any position and quick reaction to changes in body position.

The vestibular apparatus, and sympathetic and parasympathetic systems of the body will work better, which means that your children will forget about nausea and dizziness.

Anti-gravity yoga in a hammock will help eliminate fears, self-confidence will come, and many psychological problems are solved.

Yoga Fly is amazingly beautiful! And beauty harmonizes all levels of a person's being, and even a yoga baby.

By doing yoga in the air with a child, an adult sets a positive example. After all, it is not for nothing that it is said: "If the parents are happy, then the child is also happy."
Yoga in a hammock is rehabilitation and return to health
If you need rehabilitation after a serious illness, you can also resort to aerial yoga classes. This is a great way to recover.
Rehabilitation in a yoga hammock is based on the same positive effects as traction therapy:
elimination of back pain,

stretching of spasmodic muscles,

unloading of intervertebral discs,

an increase in diastasis between the articular surfaces of the intervertebral joints,

release from compression of the nerve endings of the spine.
With the help of a hammock, it is possible to create corrective arcs in the spine due to the weight of your body, this helps to enter a therapeutic position and solves problems with scoliosis, strengthening the paravertebral corset of the spine. Under normal conditions, this effect is quite difficult to achieve.
The benefits of doing fit yoga in a hammock for those "who are over …"
An alternative to the recognized effective method is traction therapy (TT).

It is used to treat the musculoskeletal system: osteochondrosis, intervertebral hernia, and protrusions.

Recovery after injuries.
It's never too late for anyone to do aerial yoga!
Please follow and like us: