STREET WORKOUT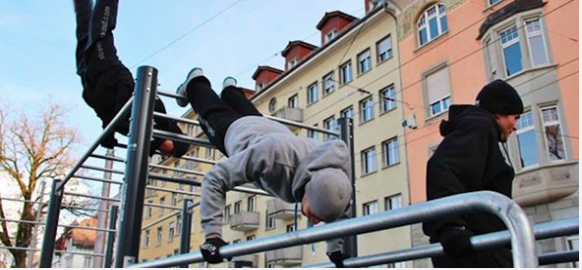 Increasingly, in the courtyards and stadiums you can meet a group of young people who enthusiastically twist somersaults and perform such exercises on the uneven bars that one is amazed at the strength, agility and flexibility of the human body. This is nothing more than a new, fashionable and very popular trend in fitness – Street workout.
Street workout paired
STREET WORKOUT – WHAT IS IT?
This is a form of physical training. The peculiarity is that the training is carried out on the street, and horizontal bars, parallel bars, wall bars serve as simulators. Sometimes everything that can be found on the street is used as sports equipment: trees are successfully replacing a horizontal bar, well covers are dumbbells, and a soft lawn is a sports mat.
Street workout for girls
HOW IT ALL BEGAN
The USSR can be considered the progenitor of modern Street workout. In Soviet times, horizontal bars were installed in almost all yards, and the TRP standards were mandatory for everyone. But the massive hobby for workout began with the fact that several American boys posted videos of workouts on the street on the network. And away we go … The idea of ​​unusual activities that make it possible to demonstrate dexterity and strength, many liked.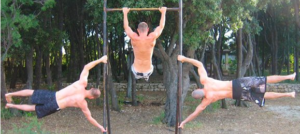 Street workout on uneven bars
STYLES AND DIRECTIONS
There are attempts to somehow organize the styles, break the workout in directions, taking into account the peculiarity of the execution of the elements. So, conditionally, the following styles can be distinguished:
Ghetto workout – focused on repeating the same exercise frequently. Exercises with a slowdown in time, when the athlete keeps the body in a stance due to muscle strength, also belong to the same style.
Handstand – this style includes all exercises performed in a handstand: push-ups, walking on hands, spichagi (power outputs in a handstand).
Jimbarr is a style originally from Colombia. It combines all the exercises on the horizontal bar: acrobatic sketches, holding the body in an unusual position, stands and candles on the horizontal bar, dismounts, turns and somersaults. In addition to muscle strength, the athlete requires incredible agility and flexibility.
However, it is not possible to clearly distinguish all styles of Street workout. And athletes usually do not dwell on one style, but use elements of all kinds.
Exercises on the horizontal bar
STREET FITNESS FOR EVERYONE
The workout is gradually turning into a powerful sports movement with the well-recognized abbreviation SW. The main goal of the movement was successfully formed by the athletes themselves: to give each person the opportunity to develop strength and spirit, to try on a healthy lifestyle.
Street workout is related to fitness by the fact that preference is given to the development of one's own body. Do you want to lose weight? Workout will help you lose those hated pounds. Looking to build muscle? Watch some workout videos. Such muscles are every man's dream.
Street workout is a real sport at its best: effective, interesting and accessible for everyone!
Please follow and like us: