New Year holidays: how not to lose shape in one week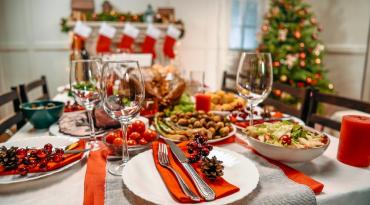 New Year's holidays for the majority are the period when one feast smoothly passes into another, and the hand always reaches for the next portion of tasty and junk food or for a glass of sparkling (and not only).
All this can adversely affect weight and roll back training results. The question is brewing: how not to lose shape for the New Year holidays? After all, nobody wants to look sadly at themselves in the mirror on January 9, and then also to lift the usual warm-up weight in the gym with titanic efforts.
🎄 How to eat on New Year's Eve without harm to the figure?
Three simple rules:
Do not starve yourself from morning to evening on December 31. Do not assume that fasting before the New Year's Eve will protect your figure. Be sure that after a whole hungry day, stopping at dinner is almost impossible.

Very sweet, very mayonnaise and very greasy-fried – eat only small amounts at the festive table. Ideally, to exclude such a thing at all, but a holiday is a holiday. Try everything you want, but just try it – eat a little.

You will not be hurt by fruits, fresh vegetables and greens, poultry, fish (in almost any form, except cooked in sauce or again infected in oil).
Do you celebrate at home? Well, you can make a festive useful menu yourself in advance. Find new recipes for salads, second, drinks. Choose lighter meals with plenty of fresh vegetables. Purchased mayonnaise is better to replace with homemade or fill salads without it. Refuse the sweet dessert. Cake at one in the morning is not the best entertainment for the New Year.
If you celebrate with relatives or friends, discuss in advance which salads they decided to cook. If they are not planning anything low-calorie, then take the initiative and offer a couple of salads for the New Year's feast according to your recipe. Naturally, you will also have to prepare and bring these salads for the holiday.
If you are going to celebrate in a restaurant or cafe, then the menu there is already invented for you. But there is a lot of food but all sorts of contests, dances, and other activities. Participate and warm-up instead of spending time with a plate.
Going to celebrate the New Year at the Christmas tree and spending more time on the street is also a good way to escape from the table. The main thing is to dress according to the weather and do not overcook.
🍷 What about alcoholic drinks?
We'll talk about this separately. Of course, the most rational option for an athlete is the complete exclusion of alcohol. But, most likely, not all will succeed. Here we can give a few tips:
Limit the amount of alcohol. It has a high-calorie content (especially strong), stimulates appetite.

Exclude beer and any sugary drinks. Give preference to dry wines and champagne. But remember that champagne has the same disadvantages as other carbonated drinks.

Drink plenty of water – this will help to quickly remove the decay products of alcohol from the body
❄️ The night "survived" without loss, but what about the rest of the vacation?
Friends, the plan is this:
Be sure to have breakfast. A full breakfast will prevent overeating during the day. Drink a glass of water 20 minutes before eating.

Chew your food thoroughly. Eat more vegetables and fruits. Fiber, which is in them, will improve the digestion of food, the work of the digestive tract.

Exercise moderation in alcohol. And be sure to arrange days without it. Choose quality alcohol; dry wines are most preferred.

Use your holidays to get enough sleep and restore your sleep patterns. This does not mean that you need to get up at noon, but that you need to fall asleep before midnight!

Walk a lot, do winter sports: ice skating, skiing, sledding.

And, of course, come to the VanderFit fitness club! In the club, you can not only burn calories but also recharge your batteries to continue a cheerful winter weekend выход
Happy New Year! We wish you victories and success in the New Year!
Friends, in the comments on this post – we will be happy to receive your congratulations and wishes 👍
Please follow and like us: