Ten quick and healthy breakfasts that will not get better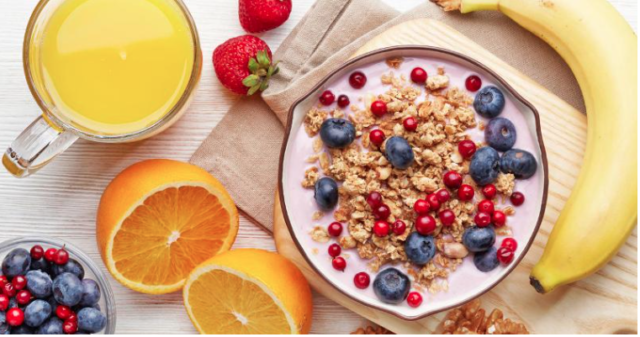 What do you do when you don't have time to cook breakfast in the morning? Or you don't feel like eating at all, and even the common truth that you have to eat breakfast yourself and give dinner to the enemy doesn't inspire you?!
There are many reasons to skip your morning meal. But the result is the same – instead of preparing and eating a quick and tasty breakfast from simple products, you again leave the house with an empty stomach. Meanwhile, nutritionists-nutritionists categorically declare that breakfast is a must.
Why breakfast is so important
Breakfast prepares your body for the day ahead. What you ate in the morning, such will be the return.
From a cup of coffee with a croissant, you will get an instant boost of energy. But after an hour you will feel hungry – simple carbohydrates quickly saturate with energy, but just as quickly and end their action.
Do not eat anything – even sadder. In the stomach, discomfort and even cramps may occur due to hydrochloric acid, which contains gastric juice.
Acid breaks down food, and if there is nothing to break down, it can damage the walls of the stomach. Lack of food disrupts intestinal motility – this provokes such troubles as bloating, dysbacteriosis and constipation.
The best option is a healthy, proper breakfast according to simple and tasty recipes. Your body will receive proteins, slow carbohydrates, healthy fats – in a word, everything it needs for normal life.
Proper breakfast – what is it
The morning meal should be nutritious so that the body receives the energy necessary for activity, at least 20-25% of the daily calorie intake.

Breakfast should be hearty, but not too dense, otherwise, instead of cheerfulness, you can get weakness and lethargy. The recommended amount of food is 300 ml of the main dish and 200 ml of a drink.

In different versions of quick breakfasts for every day, the following must be present:

proteins are the main builders of our cells;

slow carbohydrates – energy providers;

healthy fats – fuel for the brain, sources of energy, synthesizers of essential acids in the body.

We've put together ten easy and delicious breakfast recipe ideas for you. Their preparation will take no more than 10-15 minutes, and you can prepare some dishes in the evening.

0 best breakfasts

Microwave oatmeal with banana

Ingredients:

½ cup oatmeal;

1 banana;

1 egg;

1 tsp sugar.

Cooking:

Mash the banana with a fork, combine with the egg and oatmeal. Add sugar, mix everything. Put in the microwave for a couple of minutes – a simple delicious breakfast is ready.

Sandwich with avocado, beans and tomato

If you cannot imagine your breakfast without a sandwich, you can not change the habit. But instead of white bread with sausage and butter, try our version. Fast, tasty, most importantly, healthy.

Ingredients:

1 slice of whole-grain bread;

half an avocado;

2-3 cherry tomatoes;

1 st. l. beans (boiled or canned); 

greenery;

salt, ground black pepper – to taste.

Cooking: 

Dry the bread in a pan. Mash avocado with a fork spread on a slice of dried bread. Decorate the sandwich with cherry halves and beans, sprinkle with salt, pepper, and chopped herbs.

Crispy omelet

One of the most popular easy and quick breakfast recipes.

Ingredients:

1 egg;

1 tbsp milk;

50 g of hard cheese;

salt, ground black pepper to taste.

Cooking:

Prepare a mixture of eggs with milk, pepper and salt. Grate the cheese and cover the bottom of the cold skillet with it. Put on medium heat. As soon as the cheese starts to melt, pour over the egg-milk mixture and hold it under a closed lid for 2-3 minutes. Fold a cheese omelet in half and enjoy your breakfast. 

salmon toast

Ingredients:

100-150 g salmon;

1 slice of whole grain bread;

½ cucumber;

5-10 g cheese (preferably with blue mold, but any soft variety will do).

Cooking:

Spread a dried slice of bread with cheese, put 2-3 thinly sliced ​​salmon strips on top. Garnish the sandwich with a sliced ​​cucumber.

Buckwheat porridge with yogurt, nuts and dried fruits

Ingredients:

4 tbsp. l. buckwheat;

15-20 g of dried apricots, prunes, walnuts;

180 g drinking yoghurt, no fillers.

Cooking:

In the evening, boil buckwheat until half cooked and fill it with yogurt. In the morning, add nuts, dried fruits and start a delicious and healthy breakfast. Seeds, fruits and berries diversify the recipe.

Tender zucchini pancakes with oatmeal

Ingredients:

½ cup oatmeal;

1 zucchini;

1 egg

½ onion;

1-2 tbsp. l. flour;

Dill;

salt.

Cooking:

Pour boiling water over oatmeal and leave for 10 minutes – until swelling. Coarsely grate the zucchini, drain the liquid. Mix all the ingredients, put in a pan and fry on both sides. The most delicious pancakes are hot, piping hot. Bon Appetit!

Fried eggs with tomatoes and sweet peppers

Ingredients:

2 eggs;

1 bell pepper;

1 tomato;

greenery;

salt to taste.

Cooking:

Wash the pepper, remove the seeds and cut into cubes. Put in a frying pan with vegetable oil and start frying. After 2-3 minutes, add the diced tomato to the pan and hold over medium heat for another 3-4 minutes. Push the vegetables aside with a wooden spatula and beat the eggs into the hole. Salt, cover with a lid and cook the dish over low heat until the desired doneness of the yolk. Decorate the scrambled eggs with herbs and serve.

Oatmeal with cheese and flax seeds

Ingredients:

1 glass of oatmeal;

80 g of hard cheese;

2 glasses of water;

½ tsp flax seeds.

Cooking:

In order for porridge to be as healthy as possible, do not use oatmeal. The best option is rolled oatmeal. Rinse the cereal and fill it with water in a ratio of 1:2. Bring to a boil, salt and reduce heat. After 15-20 minutes, the porridge is ready. Add grated cheese, stir and let it brew for 5-10 minutes. To make the dish even healthier, add half a teaspoon of ground flax seeds to the porridge. 

Agree that this is a very easy recipe for breakfast. 
Orange carrot smoothie with apple
Ingredients:
1 green apple;

1 orange;

1 carrot;

1 glass of orange juice;

1 tsp honey;

ginger root.
Cooking:
Carrot, orange and apple cut into pieces and grind in a blender. Finely grated peeled ginger root. Combine the ingredients, add honey and orange juice, beat with a blender until smooth.
Please follow and like us: