WINTER FOOD: HOW TO KEEP WARM?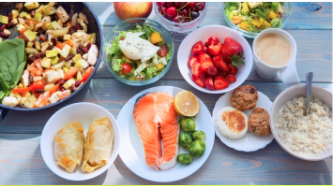 Every time the season changes, our body changes its biorhythms, which affects its work as a whole. This is especially noticeable at the onset of winter, and proper nutrition is necessary to enjoy life. The leading nutritionist for the federal chain of fitness clubs X-Fit explains what and how to eat during the coldest time of the year.
Many winter ailments, weakness, and poor health are easily regulated by a quality selection of products. These conditions are caused by an increased consumption of thermal energy of the body: the winter period requires many times to multiply the consumption of calories to 1400-1600 per day, which will allow you to survive the winter without harming your health. According to nutritionists, weight gain by several kilograms is quite common at this time of year.
Every day, each body needs to carry out three full meals: breakfast, lunch and dinner. The diet and its content can be changed depending on the season. In winter, our market receives seasonal products for this cold period, such as sea buckthorn, quince and pumpkin.
For the proper functioning of the body, the nutritionist of the federal network X-Fit advises to eat soups and meat products every day, since they allow not to spend the necessary energy to maintain the heat balance of the body, to focus their activities on other vital processes.
"Regardless of what you eat – salad, soup, main course – the food base always remains: every day every person should have a full breakfast, lunch, afternoon snack and dinner. However, their content will change, because in winter we have access to products that are not on the shelves in other seasons: for example, persimmon, quince, pumpkin, sea buckthorn, says Oleg Iryshkin, Ph.D., doctor of sports medicine and sports dietetics, nutritionist of the federal network of fitness clubs X-Fit. – There are many healthy recipes with these products. Chop persimmons, avocado, arugula, grate radish and season salad with lemon-ginger sauce, garnish with sesame seeds. Or chop the pumpkin, grate the carrots, add the root salad and pumpkin seeds, seasoning everything with olive oil. Both salads contain essential vitamins and minerals,
But do not forget about berries and fruits, which are rich in vitamins A, E and C, which are responsible for the functioning of the immune system. Vitamin C strengthens it, allowing you to minimize the penetration of viral diseases. Vitamins E and A improve immune function. You should not be afraid of increased consumption of fats in the winter: unsaturated fats help to reduce dry skin, and also maintain a constant body temperature.
There are dozens of healthy and delicious recipes: grate the radish, cut the persimmon and arugula into small slices, season the mixture with lemon-ginger sauce, and add a handful of sesame seeds. Another tasty and healthy recipe: grate the carrots, cut the pumpkin into slices, add pumpkin seeds and root salad, do not forget to season everything with olive oil. These simple dishes will easily fill the body's daily need for vitamins and microelements, that is, they will help maintain vitality, cheer up even on the coldest evening.
Please follow and like us: