Salad for a healthy body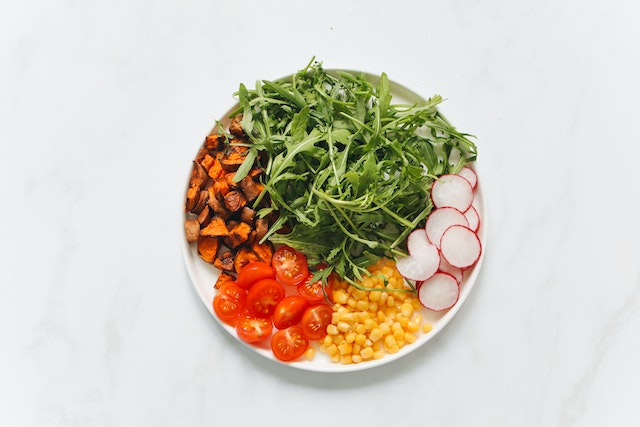 Bases for mixed salads
With its many varieties, lettuce is omnipresent on our tables. There are several varieties, with different flavor and texture characteristics. Rich in nutrients and taste, green salads are available all year round and allow you to stock up on fiber, vitamins and minerals, while remaining very low in calories. Here is a short guide to help you choose and use different types of lettuce.
Do you think salad is a sad dish, reserved for people on a diet? Nothing could be further from the truth: this dish can be truly delicious and creative, you just need to give free rein to culinary creativity and experiment with flavors, colors and ingredients. The secret to preparing a successful mixed salad is not to be afraid to dare!
Whether cold or warm, simple or gourmet, vegetarian or not, made with vegetables, fruits, pasta or rice… here are all our tips for preparing delicious mixed salads.
Toppings for mixed salads
It's the toppings that make a salad's taste identity! The good news is that, when it comes to ingredients, the choice is endless! You can assemble your salad in every different way, to vary the flavors according to your desires. So, what ingredients should you put in a salad? Here is a small list of possible toppings for your mixed salads.
Vegetables
Tomatoes, zucchini, peppers, eggplant, mushrooms, broccoli, fennel, artichokes, avocado, carrots… and much more! Vegetables are essential ingredients in any mixed salad. They change with the seasons and desires, to always give you gourmet and healthy dishes.
Cooked or raw, cold or warm, they will allow you to stock up on fiber, vitamins and minerals, and will give your salads a touch of freshness and taste. Only one rule: always choose fresh, seasonal products, preferably organic.
Proteins
For a mixed salad to become a 100% healthy and balanced dish, it must ideally contain a wide variety of nutrients and all the necessary contributions for the proper functioning of our body. While vegetables are rich in fiber, vitamins and minerals, proteins can be of two types.
Animal proteins are present in meats (chicken, beef, ham, bacon, etc.), fish (sardines, tuna, anchovies, shrimp, etc.) and eggs. These ingredients can be added to your salads to make them even more appetizing and nutrient-rich. Some examples? : Chicken and avocado salad, lamb salad with feta, tomatoes and olives, avocado salad with grapefruit and shrimp, Caesar salad.
But how can you consume the right amount of protein without eating foods of animal origin? People following a vegetarian or vegan diet, or wishing to have a varied diet, stock up on plant-based proteins. Legumes, tofu, seitan, tempeh can be added to your salads to make them complete and rich in protein.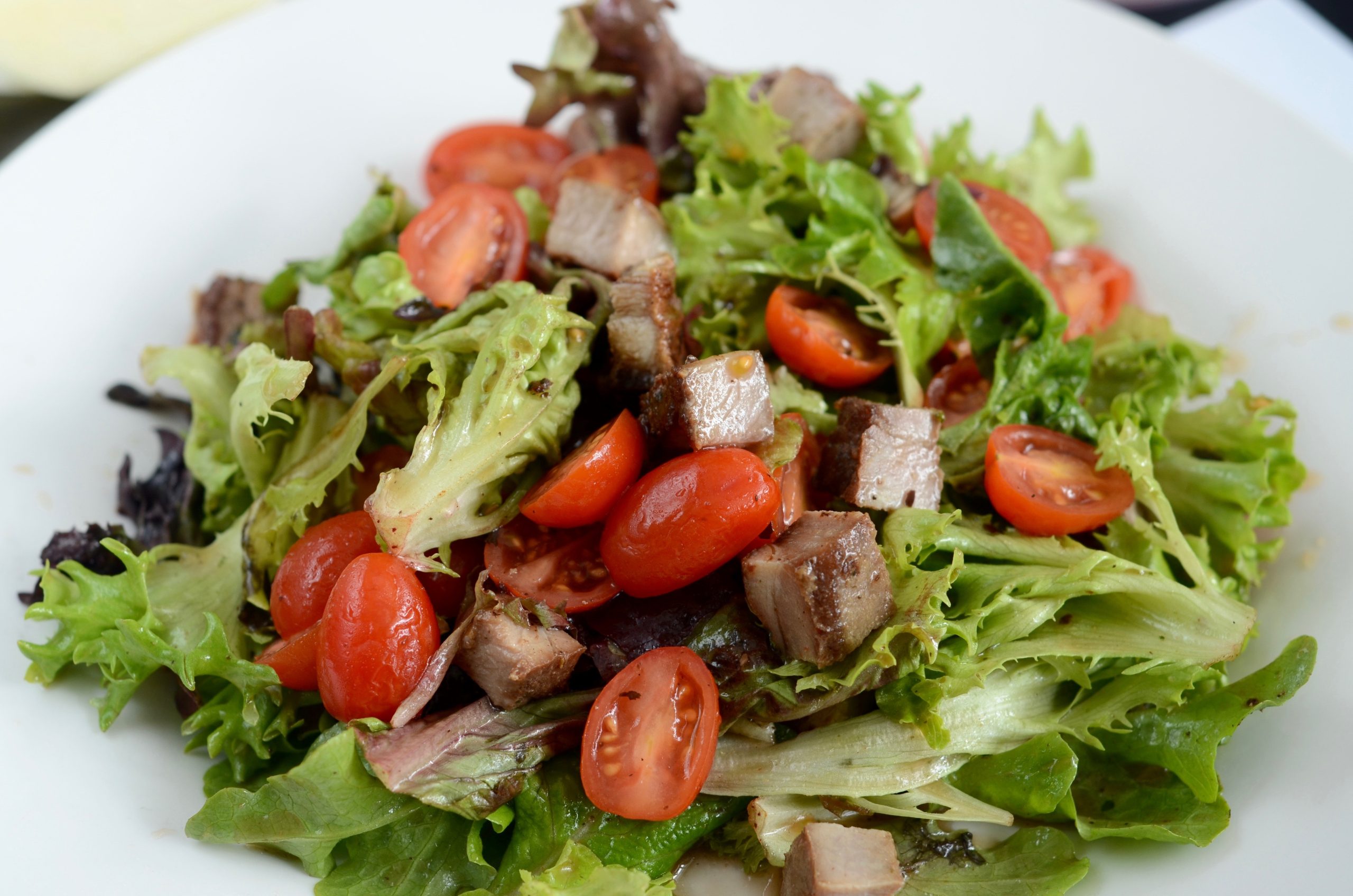 Salad with dried fruits
Want to enrich your mixed salads with crunchy ingredients? Think about dried fruits! Rich in trace elements, fiber and minerals, dried fruits help you fill up with energy and give your salads a crunchy and delicious side. The choice is vast: almonds, walnuts, hazelnuts, cashews, pecans, pistachios, pine nuts, etc. Each with its unique flavor, they will complement your salads and make them irresistible.
Salad with strawberries
If you like sweet and sour flavors, you could add sweet ingredients to your mixed salads. So, what's better than seasonal fruits? Always fresh and soft, they are able to give your salads a touch of originality. Some examples ? Mozzarella, melon and ham salad, fennel salad with oranges, arugula salad with peaches, or beetroot salad with pear and goat cheese, perfect for a light meal.
Seasonings for mixed salads
Another essential element capable of awakening the taste of any salad is the seasoning. Some people like to season their salads with just a little drizzle of oil and a pinch of salt. Vegetable oils are always a good option for dressing your salads in a healthy and delicious way. If olive oil is a great classic with an intense and delicious flavor, you can also try avocado oil, hazelnut oil, sesame oil, walnut oil, rice oil , etc… The choice is vast! For a tangy taste note, add a few drops of lemon, vinegar (wine, raspberry, apple, etc.) or a touch of mustard.
Alternatively, if you want a richer seasoning, consider vinaigrettes! Discover here ten vinaigrette sauce recipes that will give your salads an always different style and taste.
Accompaniments for mixed salads
For your salad to become 100% complete and nourishing, it should be accompanied by a food rich in carbohydrates. If bread (white, whole meal, cereal, etc.) cannot be missing, you can also serve your salads with focaccia, crackers, breadsticks or croutons or add boiled potatoes.
Most famous salads
Now you know how to prepare a truly complete mixed salad, by choosing seasonal ingredients and following your desires. However, there are also famous and appetizing salad recipes, you just have to follow the recipes to the letter to be sure to get the full taste.
Nicoise salad
Tuna, anchovies, green beans, hard-boiled eggs and black olives are the perfect ingredients for this type of salad.
Cesar salad
Born in the United States, this salad is rich and delicious. The basic ingredients of Caesar salad are: green salad, chicken, anchovy sauce, eggs and Parmesan.
Piedmontese salad
Made up of potatoes, hard-boiled eggs, pickles, tomatoes, diced ham and (lots of) mayonnaise, Piedmontese salad is, in reality, of… Russian origin.
Pasta salad
Healthy and quick to prepare, pasta salads allow you to make the most of seasonal vegetables and aromatic herbs. They can be served cold or warm and allow you to play with flavor combinations and ingredients. If you are looking for gourmet ideas to prepare at home, here you will find recipes for all tastes!
Rice salads
Rice has the advantage of being able to cook and can be kept in the refrigerator for two or three days, with or without toppings and seasoning. Interesting alternative to classic rice, venere rice is perfect in salad! Black, crunchy, rich in nutrients and taste, this whole grain rice of Italian origin is suitable for making several summer recipes: here are three you absolutely must try!
Fruit salads
To finish gently, how about a… fruit salad? The only rule to follow to successfully create these delicious and colorful fruit mixes is to always choose seasonal, fresh and quality fruits. For the rest, give free rein to your creativity and your gourmet desires!
Salad is extremely healthy, and you should always keep salad items in your daily meal.
Please follow and like us: