BALANCED FOOD FOR WOMEN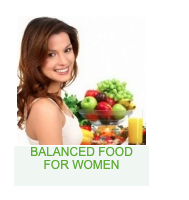 Balanced Nutrition for Women 
Our daily eating habits and lifestyle influences well-being, energy levels, and appearance. That is why this site will help you make positive changes in eating habits to achieve a healthy and active lifestyle.
Women, in general, have slightly different nutritional needs than men. As a rule, women tend to achieve a more elastic and toned figure, rather than the muscular appearance that most men aspire to. The essence of a balanced diet is that you should consume the right balance of all nutrients per day, with a minimum of calories, as a result of which you can easily achieve your goals.
Having received the necessary information about essential nutrients, you can easily make proper nutrition a part of your life, taking into account your individual needs. After all, everyone has their own needs for nutrients, depending on gender, age and lifestyle.
To control weight, you need a diet for a week, which:
It takes into account the calorie content of food and provides a balance of nutrients, saturated with protein and fiber, which allow you to maintain a feeling of satiety for a long time.
It helps to regulate the level of energy and avoid sudden changes, which can push us to choose unhealthy foods. Start your day with a wholesome breakfast and eat small meals five times a day.
For a saturated and active lifestyle, you need a diet for a week, which:
It will help to maintain a high level of activity all day by getting the right amount of energy from complex carbohydrates.
Consists of products that contain all the necessary nutrients.
Allows in the morning to supply the body with protein, vitamins, minerals, valuable fiber.
Different lifestyles = different dietary needs
For older people, a weekly diet is needed, which:
With a decrease in appetite and a reduction in physical activity, it provides the body with the necessary nutrients without extra calories.
It contains special nutrients to meet the changing needs of your body. For example, a diet rich in antioxidants, fiber to support digestion, calcium to strengthen bone, and useful fatty acids to support heart function.
Lovers and sports professionals will need a diet for a week, which:
It provides the body with additional calories and nutrients in return for those consumed during physical exertion.
It provides a continuous charge of energy and effective hydration during training.
It provides high-quality protein for the restoration and formation of muscle tissue.
It provides complex carbohydrates for the gradual release of energy.
HERBALIFE PRODUCTS ARE SPECIALLY DESIGNED FOR YOUR INDIVIDUAL NEEDS AND CALLED ON HELP TO INTRODUCE THE BASIS OF NUTRITIONAL NUTRITION IN YOUR LIFESTYLE.
Please follow and like us: