Ayurvedic remedies for hair growth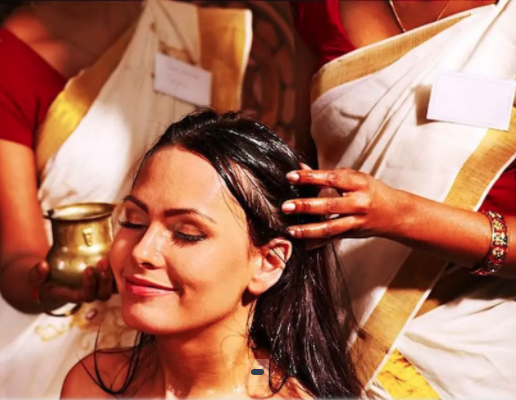 Ayurvedic remedies for hair growth
Many of us associate health with longevity, endless energy, good looks, and well-being. But in order to realize all these benefits, it is not enough just to diagnose diseases in oneself in a timely manner and treat them. The secret to true health is balance. Ayurveda helps to achieve it. It is an authentic Indian healing system that is more than 5,000 years old. 
When compared with Western medicine, in which the advantage remains with injection therapy, Ayurveda is based on the use of various herbs and extracts. In addition, massages, yoga, and a diet depending on the constitution of the body play an important role in it. This approach is unique in that it involves the effect on the entire body as a whole. At the same time, the teaching focuses on each system and organ separately.
Thick hair in Ayurveda is considered one of the main criteria for assessing health. Their beautiful appearance or dullness and severe loss can be a wake-up call that cannot be ignored.
Ayurvedic preparations that promote hair growth
Keshkuntal. It is a unique Ayurvedic remedy that enhances hair growth. It contains a complex of herbs that improve the structure of the curls, fill them with all the necessary vitamins and other useful substances. After using this drug, the hair gains health, density, and strength.
Keshkuntal restores hair, promotes hair growth, protects against hair loss. It consists exclusively of plant and mineral components. Due to constant stress, malnutrition, anxiety, side effects of drugs, poor ecology, and other factors, the curls become weak and begin to fall out.
The most common hair problems are dandruff (seborrheic dermatitis), baldness, brittle hair, split ends, and early gray hair. It is necessary to treat such symptoms from the inside. External therapy does not give the desired quick results. Keshkuntal nourishes the curls, gives strength to the growth of new hair follicles.
Bringaraj, which is in preparation, accelerates hair growth, protects the body from aging, and rejuvenates bone tissue. It makes curls strong, strengthens teeth, improves memory, hearing, and vision. It is an invaluable source of calcium, without which strong and healthy hair cannot be grown.
The ayurvedic drug improves metabolism, rejuvenates the body, tones it up, strengthens the nervous system, promotes the rapid healing of micro-wounds. This remedy is taken by people suffering from cirrhosis, dysentery, insomnia, all kinds of skin diseases, mental disorders, and much more.
Properties possessed by the product:
it treats hair loss (baldness);

promotes their growth;

makes curls strong and shiny after perm and dyeing;

improves their structure, eliminates fragility and split ends;

the drug removes dandruff;

eliminates premature gray hair, by increasing the amount of melanin, accelerates hair growth, restores their natural shade;

gives curls a beautiful shine, soft silkiness, and a healthy appearance.
The tool is used for:
insomnia;

baldness;

early gray hair;

hair loss;

the need for a rejuvenating effect;

the importance of toning the body;

needs to improve metabolism;

the need for anti-febrile action;

hemostatic;

healing;

the importance of strengthening the nervous system.
A contraindication to admission is the presence of individual intolerance to the constituents of the drug.
Trichup. This is an Ayurvedic remedy that activates hair growth and protects them from hair loss. The product is known for its powerful herbal and mineral complex, consisting of herbs and minerals commonly used to care for curls.
It also contains muktashukti basma and bhringaraj, which make hair thick, healthy, improve its structure and accelerate growth.
What effect does the indicated remedy have?
Trichup normalizes hair growth.

Stops their loss at different intensities.

Even "dormant" bulbs are activated.

Improves the structure of curls.

Increases their density.

Prevents breakage and tangling of hair.

Eliminates scalp flaking, dandruff, and itching.

Makes curls silky and shiny.

Very useful as an additional mineral supplement for general body support.

By stimulating the production of melanin inside the hair follicles, it restores hair growth, restores its natural color instead of gray hair.
Trichup is used for the following actions:
against beriberi;

gray hair;

to restore damaged hair;

in the absence of shine curls;

if the hair is dry and brittle;

grow slowly;

with alopecia;

intense hair loss.
According to Ayurveda, curls are the litmus test of the human body. They show our actual emotional and physical state. It is believed that an experienced physician is able to diagnose a patient simply by looking at his hair. Many factors affect the health of curls. The main ones easily undermine health and spoil the appearance of the hair.
The same negative effect can be achieved by using low-quality care products. Today there are a huge variety of chemicals that are composed of harmful substances. As you know, unhealthy curls split and break all the time. In such cases, effective Ayurveda preparations come to the rescue. 
Please follow and like us: