A Life in the Shadows of a Corporate Lawyer
A Life in the Shadows of a Corporate Lawyer
Ebook Synopsis
A Life in the Shadows of a Corporate Lawyer: Alcohol Ruins Promising Legal Career.
This autobiography by attorney Walt Jay, shares the triumphs and tragedies of a corporate lawyer battling alcoholism at a time when the condition was often misdiagnosed and untreated.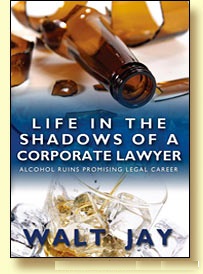 Walt was laid off along with 10,000 others at Motorola's Semiconductor Products Division in June 1971. Despite his having been admitted to state and federal courts in Arizona in 1969, he could not obtain a law firm job because of parochialism favoring University of Arizona graduates over top tier JD's. Facing a June 30th deadline, he accepted an offer from a solo general practitioner with offices in Phoenix and Winslow, 200 miles northwest in Navajo County. Unbeknownst to Walt, Robert Jenkins was smuggling marijuana from Mexico in his single-engine airplane, being busted on the 4th run. He was convicted in 1972 and served 5 years in Leavenworth. Walt's reputation was ruined, forcing him to take a succession of poorer paying and less secure jobs. After experiencing 26 years of relative stability in Navy OGC and the legal staff of General Dynamics' Electric Boat Division, he was the victim of blatant age discrimination in 1999. EB re-hired him for two and a half years, first as a contract "temp", then as outside counsel, but without any benefits, including especially health insurance. When his contract with EB expired, Walt again was forced to take a series of lesser paying, very unstable jobs in MT and NM and then back in CT with tiny companies and university labs as a "contract manager", doubling without any additional pay as "counsel". He now handles his younger son's plethora of civil, family, and criminal legal matters as well as sexual harassment suits pro bono for friends from EB.